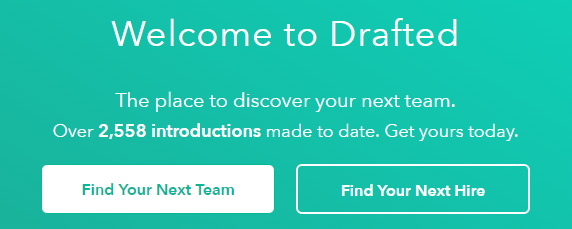 Last week Drafted announced that I am an investor and advisor. I'm really excited about it for a number of reasons:
Huge market undergoing a big change.

The future of work is one investment theme I think it is interesting. I've invested in a few other startups in this area and remain a believer that the way people find and do their work will be very different 10 years from now, and there will be an entirely different ecosystem of tools to serve that new reality. In addition, most managers and HR professionals hate the tools they use today to recruit and manage employees. When I hired and managed over 100 people at HubSpot, I tried to avoid as much as possible the traditional tools we had because they provided little value to me. Specifically to Drafted, it is getting harder and harder to find amazing employees, and if you can rethink the recruiting process to make it easier for managers to find great employees more easily, you create a ton of value. It's about way more than referrals by the way, but I'll let Drafted talk about that in the future.

Strong product team. While I think I learned a thing or two about product and building software from working in close quarters with Yoav Shapira, David Cancel and others, my experience and advice is strongest and deepest around getting to market and driving revenue and building buzz. For that reason, I prefer to find teams that are really strong in product, even if they maybe need a little help in go to market. The Drafted team is very strong in product, and has built a lot of good new stuff quicker than I expected.
Coachability. The pest people listen to all advice and act on some of it. Some founders are so dedicated to their mission that they have a passion that blinds them to any input that does not share their world view, making them uncoachable. I very rarely invest in founders like that - and only if they have been successful multiple times and they are targeting the same market. (And even then it is scary.) Vinayak and the team have proven to be very coachable - they are open to hearing advice and adjusting their course based on it.
Shared passion for Built in Boston. Vinayak and I share a passion for building up the tech ecosystem in Boston. He has graduated from MIT, worked in consumer internet in Boston, and now founded a company here. He often publicly defends and promotes Boston as needed. We need more founders like him here and I'm proud to support him.
So if you are thinking about getting a new job or are trying to hire some stars, check out Drafted.