Karen Rubin and I have talked about this on HubSpot TV before, but I think this is a cool example of a company adding a lot of personality to a brand and products at a low cost. In this video the company owner/designer tells you about the shoes you want to buy and how they make her feel when she wears them. Very cool way to build an emotional connection, just using a short video on the web - at a very low cost.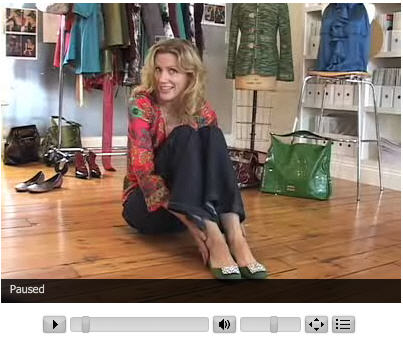 Now... onto what Tracy Porter is doing wrong...
I can't share the video! It was a real pain in the ass for me to grab a screenshot and link to it, and there was no way to easily embed the video directly in my blog. There should be. More people would spread the videos if it were easier.
The videos are not spread throughout the web! Don't just lock your videos up on your website, put them on as many sites as you can - YouTube, Viddler, Vimeo, Facebook, Blip.tv, etc. Use a service like Vidmetrix or TubeMogul to cross post automatically. They should put these videos anyplace they can.
Posting the product videos to YouTube or another service and then embedding those on your own website would solve both of these problems. Tracy Porter actually has a YouTube channel, but they only have 23 videos and they do not post the product videos from their website on YouTube. They should.
Have you used video to add personality to you brand? How?