Bloggers and social media folks like to play funny Internet games sometimes. One of these games is to "tag" people by linking to them and writing about them (most bloggers monitor their links and traffic so they will know when it happens). You'll see that my articles both today and tomorrow are responding to being tagged in this way. One reason bloggers like to play this game is it sends some traffic and links around, and helps introduce our readers to others and vice versa.
Today's response is to being tagged by Pamela Seiple in the 6th Photo Meme, where you grab the sixth photo on the sixth page of your Flickr photostream and write about it on your blog. So here goes...
This photo is from the Inbound Marketing Summit, and is a picture of Seth Godin speaking. I'm not sure it requires any more explanation than that! If you want more visually appealing photos, see my Kenya safari photos.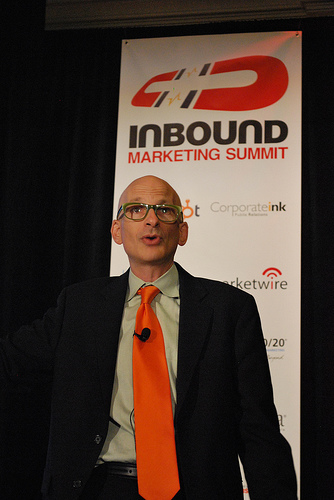 Now... who to tag to keep the meme going?
Yeah, I know I tagged 7 people, but don't hate me for doing a bit extra!