Write a caption to this photo, win a free t-shirt. (Update: contest is now closed, but you can still add captions for fun)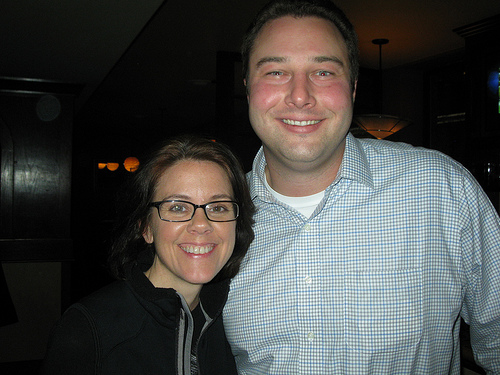 This photo of me (Mike Volpe) and Ann Handley just seems weird/funny and deserving of a humorous caption. So, let's have a contest! (Photo credit: Bob Collins).
How to Enter: Enter by Tweeting your caption along with the hashtag #mvolpe-pic, or for those of you not on Twitter you can leave a comment on this blog article below.
Rules:Caption must be less than 140 characters long (for Twitter compatibility). Winner will be chosen by Mike Volpe, maybe with help from Ann Handley based on humor and cleverness.
Prize: The prize is any t-shirt from the HubSpot Gear store, including free shipping to you. (There are some pretty cool/funny shirts there if you ask me - "I'm kind of a big deal (on Twitter)." and "I love f*cking with Google." are my favorites.)
Sample captions (bad ones, hence the reason for the contest):
"Big or small, marketing loves them all"
"On Twitter, we can all be 7 feet tall, even @marketingprofs"
"Clearly, Twitter followers are not proportional to your size in real life"
Update: Winners
I picked based on the shortest and cmost clever ones, and rather than just pick one, I picked two. Here they are:
Tim Jackson (blog comment): "Proof that size does not matter."
missleah26 (Twitter): "Marketing genius: Now available in 2 sizes."
Thanks everyone for the fun. I might have to do something like this again.